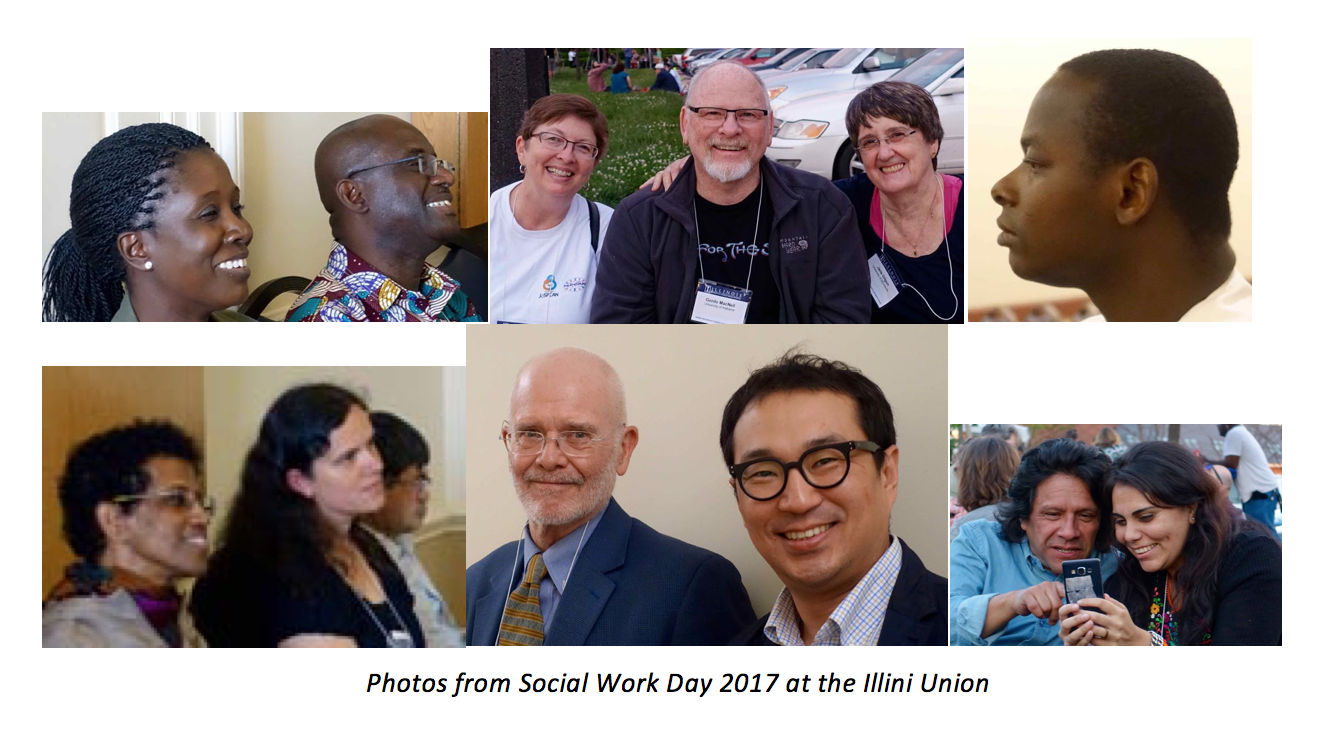 8th Annual Social Work Day
Thursday, 17 May 201
14th International Congress on Qualitative Inquiry
Theme: Qualitative Inquiry in Troubled Times
Photos from Social Work Day 2017 at the Illini Union
"All are Welcome"
Social Work Day: Energy and Ideas
Social Work Day is the great social work get-together. Social workers from throughout the world come together to share ideas and draw energy from each other. All methods and topics are welcome. We are particularly interested in papers that expand thinking on how social work qualitative inquiries contribute to understanding definitions of situations in these troubled and polarized times. Join like-minded colleagues at Social Work Day and the main conference to draw upon good energy and generative ideas and go back to your homes and work refreshed and ready to begin again.
Call for Ideas
Plenary Session on Roles of Qualitative Inquiries in These Polarized Times
In response to global concerns about the rise of the right, we social workers are seeking language and strategies to push back and restore policies and civic discourse that serve the common good. In this plenary, we will share ideas about how we as qualitative social work researcher can respond using the principles and values that underpin our work. Values of dignity, worth, self-determination, and social justice are social work values and principles stem from them.  Please email Jane Gilgun at jgilgun@umn.edu with suggestions.
Suggestions for 2018
 At the closing Town Hall Forum at the 2017 Social Work Day, participants had suggestions for 2018. Here they are.
Speed Consultations: A take-off on speed dating, seasoned researchers will meet with new and experienced researchers who would like consultation on their work. Like speed dating, each meeting will last 15 minutes, and participants will then move on. The last part of the session will be sharing of experiences.
A Methodological Track: Sessions that focus on methods and methodologies typically have larger audiences than those that focus on substantive issues. So, we will make an effort this year to create a methodological track. In addition, we will encourage each presenter in other sessions to emphasize their methods and methodologies.
Constructivist Grounded Theory: A speaker or a roundtable on this topic.
Qualitative Inquiry, Advocacy, and Social Activism: Many qualitative researchers become advocates and social activists because in our we seek to understand the lived experiences of others who often experience assaults against their dignity, worth, and self-determination. Our in-depth understandings move us to action.
Panel: Developing Formal Theories of Action on Stigma, Silence, and Voice
Social Work Practice Research: Roles of Spirituality and Religion in Coping
Roundtable: Tenure and Qualitative Researchers
Roundtable: Constructive responses to challenges in doing qualitative research, such as funding opportunities; IRBs, poor teaching of qualitative research, and lack of mentoring
Panel/Workshop/Roundtable: creativity in social work research/arts-based social work research
Workshop: Teaching Qualitative Research
Workshop: Funding for Qualitative Research;
If any of these click with you, see if you can organize a panel, workshop, or roundtable. You may also chose to write a paper that will become part of a session with a shared theme.  If you want to organize a panel, you can check with colleagues by sending a message to the various social work lists. If you don't know how to access the list, please email Social Work Day's organizer, Jane Gilgun, at jgilgun@umn.edu.
Other topics are welcome.
More on Social Work Day
This year's Social Work Day is once again on Thursday where we will be together in one place to share our research. For the next two days, we will participate in the main conference where we will mingle with scholars from about 200 countries and scores of disciplines and be exposed to an amazing variety of ways to do and to present qualitative research
Graduate students, new professors, practitioners, and seasoned professors mingle at Social Work Day. The networking possibilities are endless. If you want to discuss ideas and topics, feel free to contact Jane Gilgun at jgilgun@umn.edu. Jane is the convener of the conference and is a professor, School of Social Work, University of Minnesota, Twin Cities, USA. If you have additional ideas about sessions, initiatives, publicity, fund-raising, or any other relevant topics, please contact Jane. She will let you know if others have similar interests and will connect you to other researchers with similar interests.
Staying in Urbana
Of special note are the cheap rates of staying in University housing—$40 or less per day. The restaurant food is international and also delicious and cheap, with lots of free food at least four times at receptions and barbeques.
To get a sense of what Social Work Day is like, take a look at the video of Social Work Day 2016. This is the link https://www.youtube.com/watch?v=FWqtSp6CAGo&t=37s.
We have several other videos on YouTube, such as the celebration of Roy Ruckdeschel and Ian Shaw as they stepped down as co-editors of Qualitative Social Work and the welcoming of Karen Staller as the new editor. Other videos are on intervention research, reflexivity and qualitative social work research, and the effects of funding on a homeless shelter in Ann Arbor, Michigan.
Once again, please feel free to contact Jane Gilgun at jgilgun@umn.edu for further information and to share ideas for the 8th annual Social Work Day, an international event.